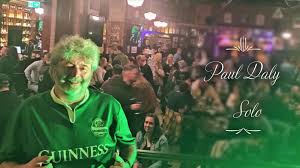 Paul Daly from Dublin
Paul Daly aka The Irish Pub Godfather in Bayern, was the man who founded The Irish Harp in Regensburg and many other pubs besides. He has played in each of those and every other conceivable pub besides over the past 40 years and more. Saint Patrick's Day Parade in Munich and so many other Irish und Bayerisch Events geht auf seine Kappe! Paul Daly hat unserem Respekt absolut!
Paul is a fantastic entertainer, singer and musician who will for sure delight you all! Seanie and i are so happy to welcome Paul to our pub for (not) the first time! Thank you Paul for all your help!!!!!!
His music covers a number of genres from Irish, Scottish, American and international Folk Music.
We are delighted and excited that Paul will take to the stage in McMahon's B'irish Pub!
For sure Seán and David will join in at some stage for a grand come all ye! A great night of music is as always guaranteed!
There is no cover charge but a hat will be passed around and we would kindly ask you to be generous towards the musicians and put at least 10€ per person into the hat.
Keiner von uns mekt fia a Mindestlohn arbeiten oda?