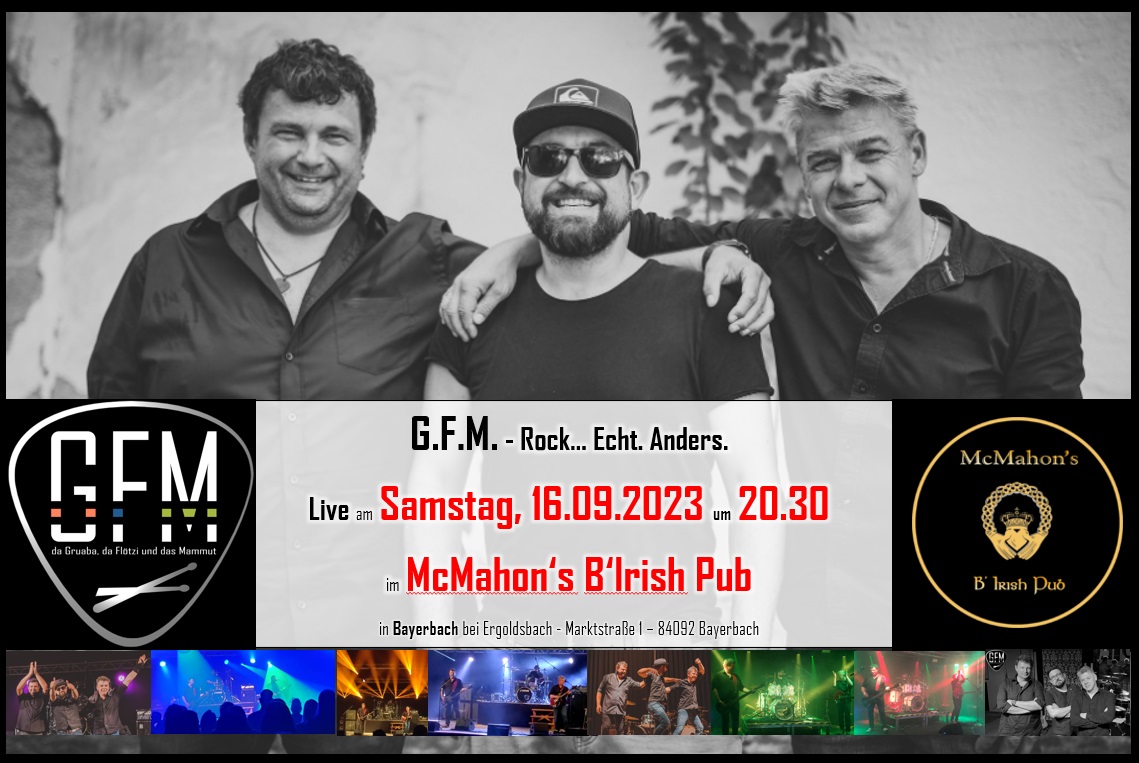 GMF Band
Once again we have the privilege of welcoming new friends of ours live on stage in McMahon's B'Irish Pub. GMF will be an absolute highlight as always!
Achtung Baby!
Am kommenden Samstag haben wir für euch ein Sommer Ende Highlight! Paul O'Donnell aus England und ehmaliges Mitglied der Gruppe "Squeeze" macht Vorgruppe im Biergarten von ca. 19:30 bis 20:30. Ab 21:00 gehts dann im Pub weiter mit die Gruppe GMF!
Rock on Tommy!!!
"Servus ….
Wir, da Gruaba, da Flötzi und das Mammut – Rock… Echt. Anders. – würden uns sehr gerne für das … bewerben.
G.F.M. steht für erdigen, ehrlichen und geradlinigen Rock. Live abgehen und dabei Spaß haben ist unser Motto. Unser Programm besteht aus Covern vieler bekannter Bands wie Green Day, Jimmy Eat World oder auch White Stripes, um nur einige zu nennen …
Einfach aus den 80er, 90er und 2000er, die jeder kennt, aber auch lang nicht mehr gehört hat. Auch eigene Songs haben wir daruntergemischt.
Lasst euch einfach überraschen.
Also… Rock'n'Roll"
We are delighted and excited to have Manfred and friends live on stage in McMahon's B'irish Pub!
For sure Seán and David will join in on stage for a grand come all ye! A great night of music is as always guaranteed!
We have no cover charge (kein Eintritt) but musicians need to be paid and this is a great band! Some people have no problem paying 556€ (ohne Schmarn) to see Helene Fischer but others have a problem when we ask you to put 10€ per person into the hat. Please don't be a Helene Fischer Depp. Sonst werden wir Atemlos durch die Nacht!
Koana von uns mecht fia untan Mindestlohn arbeiten oda?
Wenn das Wetter mitspielt werden wir im Biergarten sein, bitte die Jacken nicht vergessen! Sollte das Wetter schlecht sein dann natürlich drinnen.