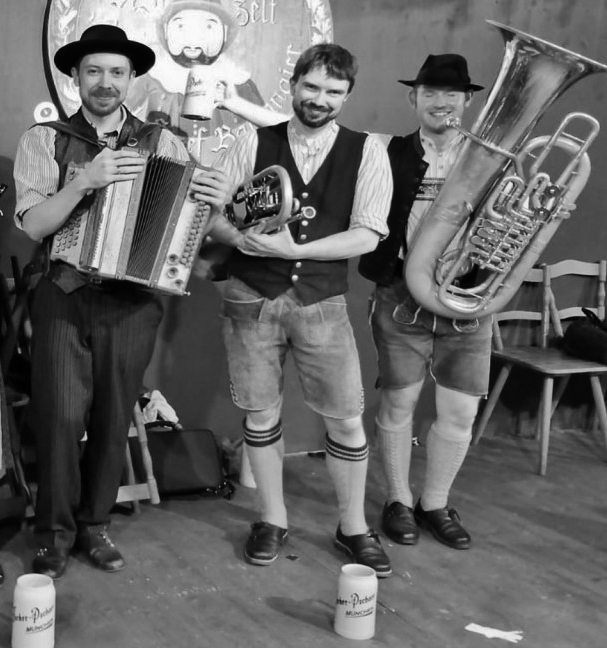 Markus & Sebatian Gröller mit Alex Hollmayr – Boarisch Pur!
Again we have the privilege of welcoming more great friends of ours live on stage in McMahon's B'Irish Pub.
We are delighted and excited to have Markus, Sebastian and Alex playing for us. All 3 are first class musicians who play in a number of different bands. Markus plays together with us in the Bayrisch Irish group and will be on stage "Oben im Saal" on November 3!
Angewandte Volksmusik aus dem Bayerischen Wald machen die drei Musikanten. Neben Märschen, Boarischen, Polkas, Schottischen und Walzern nimmt den Großteil ihres Repertoires der Zwiefache ein. Ein gscheiter Zwiefacher gehört immer gepfeffert, heißt es. Mit den drei erstklassigen Musikern wird es auch bestimmt gesalzen, damit's a guad schmeckt!
For sure Seán and David will join in on stage for a grand come all ye! A great night of music is as always guaranteed!
We have no cover charge (kein Eintritt) but musicians need to be paid! Some people have no problem paying 556€ (ohne Schmarn) to see Helene Fischer but others have a problem when we ask you to put 10€ per person into the hat. Please don't be a Helene Fischer Depp. Sonst werden wir Atemlos!
Koana von uns mecht fia untan Mindestlohn arbeiten oda?
Wenn das Wetter mitspielt werden wir im Biergarten sein, bitte die Jacken nicht vergessen! Sollte das Wetter schlecht sein dann natürlich drinnen.