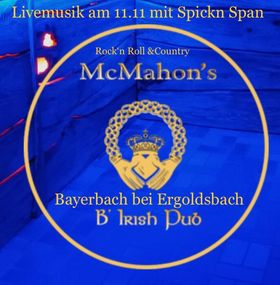 Spick n'Span
Yeehaaa Country & Western this weekend with Spick n'Span! From Alan Jackson to Rickie Valens not to mention Johnny Cash nor Garth Brooks!
Seit 2011 geht die Musikband Spick'n Span, wie schon Jonny Cash mit dem Song -I walk the Line-, Ihren Weg. Mit ihrer besonderen Vielfalt an Coversongs aus der Ära der Musikerlegenden begeistern sie generationsübergreifend das Publikum.
Authentischer Sound und Originalbesetzung -Bass, Drums, 2 Gitarren- lässt die alten Songs und die Zeit von Jonny Cash, Elvis, CCR, Chuck Berry, Bill Haley, Buddy Holly oder Ritchie Valens wieder auferstehen.
Macht mit uns eine Zeitreise zu den Anfängen der Rockmusik. Melden Sie sich einfach bei uns. Sie werden so schnell wie möglich eine Antwort von uns erhalten.
We have no cover charge in McMahon's B'Irish Pub (kein Eintritt) but musicians need to be paid! Some people have no problem paying 556€ (ohne Schmarn) to see Helene Fischer but others have a problem when we ask you to put 10€ per person into the hat. Please don't be a Helene Fischer Depp. Sonst werden wir Atemlos!
Koana von uns meckt fia unta a Mindestlohn arbeiten oda?